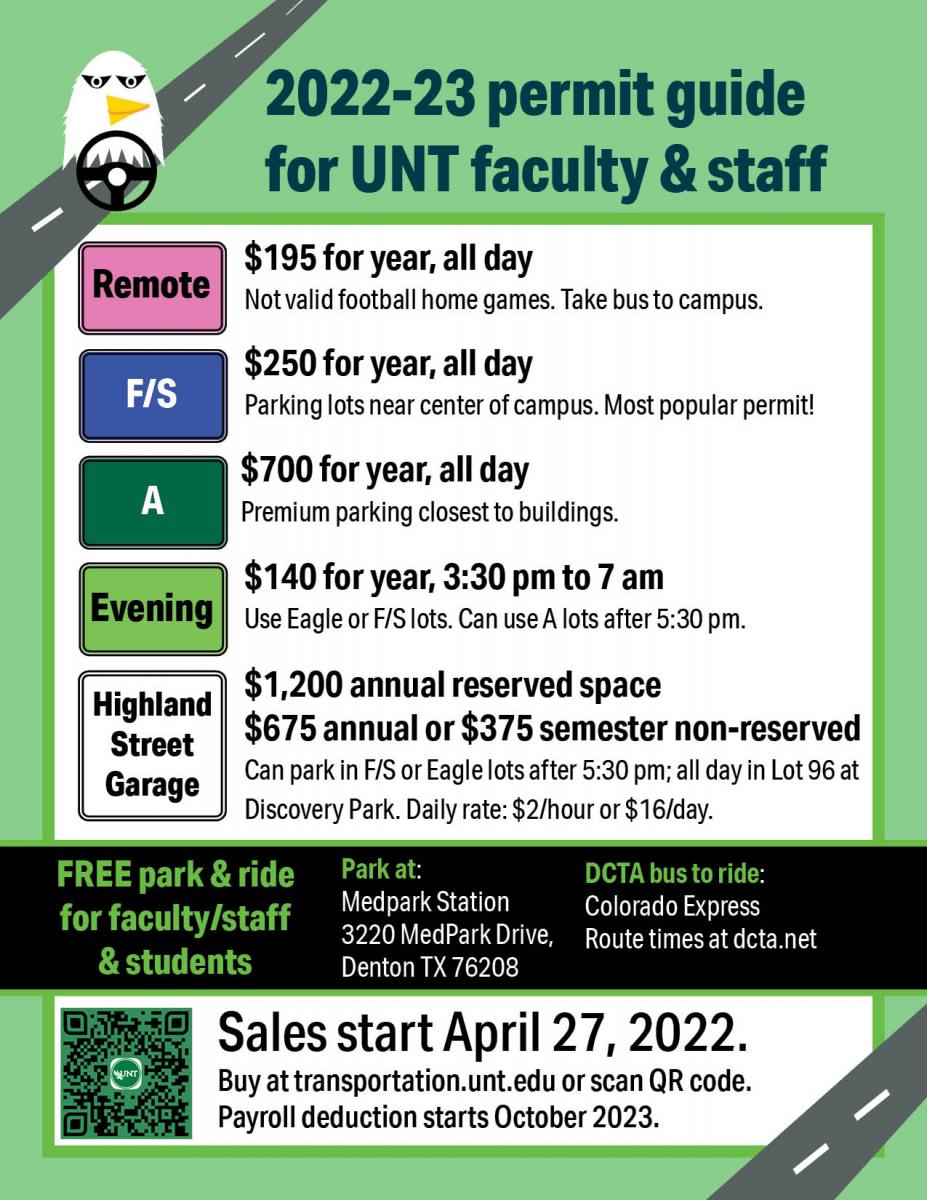 Jump to:
Student parking permits information
Faculty/staff parking permits
Sales of UNT parking permits for 2022-23 start on April 27, 2022 for faculty and staff.
See a downloadable PDF of the types of permits faculty and staff may purchase, at right.
For faculty and staff who use payroll deduction, you will NOT be charged immediately if you purchase a permit before the start of the 2022-23 academic year. Payroll deduction for the 2022-23 permits starts on Oct. 1, 2022.
Working remotely in 2022-23?
An F/S permit is more cost effective if you plan to be on campus 50 or more times in 2022-23. If not, you can purchase a daily permit for $5 through the
UNT Parking Permit portal
. Or, you can park using visitor options (see below under general information).
Student permits are expected to go on sale for upperclassmen the week of June 6; and the week of June 13 for freshmen.
Permit prices remain the same as the 2021-22 academic year.
New this year: if you choose the Highland Street Garage option, you can park in Lot 96 at Discovery Park and you can park in F/S or Eagle spaces after 5:30 pm through 7 am the next morning (and all day on Saturday/Sunday).
Please visit us again for more information or follow our social media accounts on
Twitter
or
Facebook
for the latest updates!
We typically post information first to our social media accounts on Twitter and Facebook (@UNTTransit). Coming in 2022-23: Instagram account which you will find @UNTTransportation!

The free Park & Ride for commuters is offered to all faculty, staff and students. Park at MedPark Station, 3220 MedPark Drive in Denton, TX 76208. Ride the Colorado Express to the UNT Union. Find the route times for the Colorado Express (CE 171)

here on the DCTA website

.

Visitors to campus must also pay for parking. One easy way to do this is by downloading the ParkMobile app and using it to find lots where you can pay by app. Visitors can also use the Highland Street Garage, entrance located at 620 Central Ave. Denton TX, and pay $2 per hour or $16 for a full day (no overnight stays).