Bringing a car?
Please be sure you purchase a UNT parking permit or hourly parking pass to park on campus. Commuters might find the free park and ride option the best one for their needs. Information on these options can be found on our Parking Permits page.
There is some free parking in the neighborhoods around campus. We ask that you please be courteous to our Denton neighbors and follow proper parking guidelines – don't block driveways, observe proper distance from stop signs and fire hydrants and don't park next to curbs painted yellow or red. Denton parking guidelines can be found here.
Bringing a bicycle?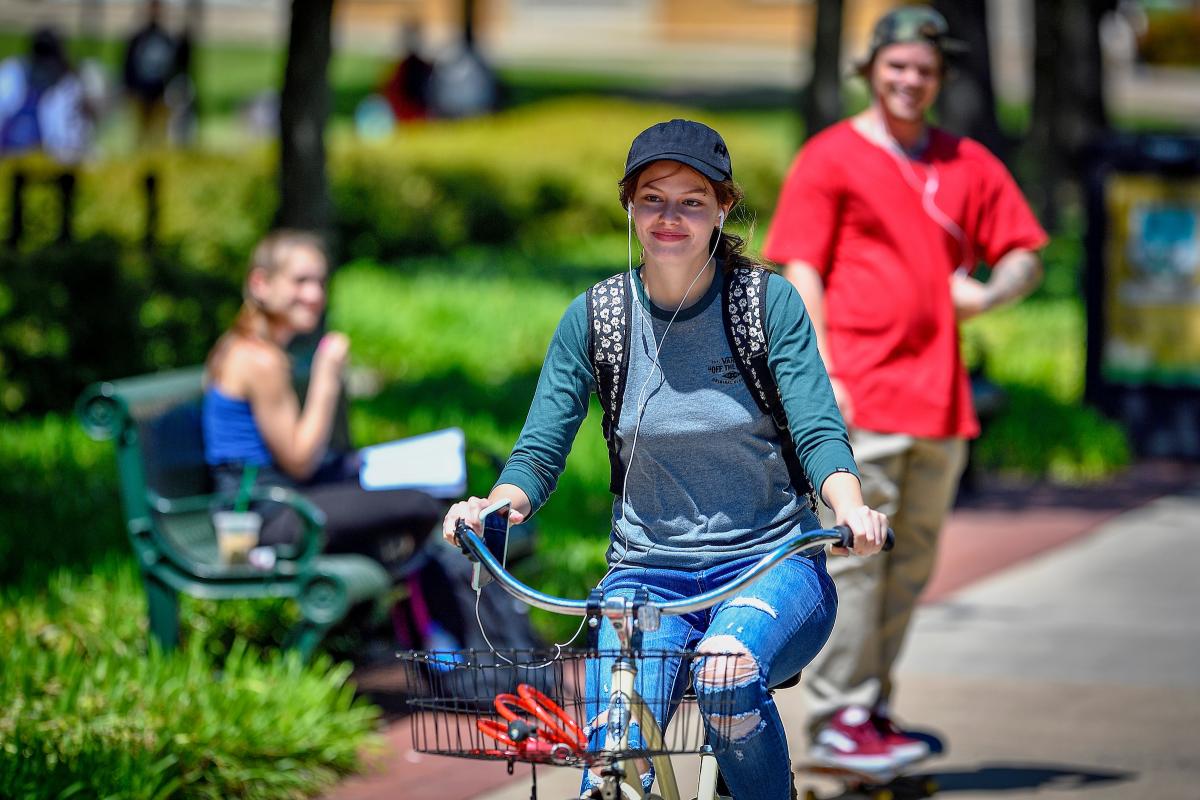 UNT has more than 100 bike racks with ample space for you to park your bike.
UNT has six bicycle repair stations across the campus. See a map of the locations here.
Bike rules:
We do not allow bikes to be chained to a tree, railing or other object that is not a bike rack. This creates a hazard for others, especially our community members who need full use of sidewalks. Bikes that are improperly chained are subject to being impounded.
Bikes left over the summer may also be subject to being impounded if it appears they have been abandoned. If we suspect a bike has been abandoned, it will receive a warning sticker before it is impounded.
Bringing a scooter, skateboard or skates?
Motorized vehicles such as scooters are not allowed to operate on university sidewalks or in the interior of campus. UNT does not allow the rental of electronic scooters on campus.
Skateboards and skates are not allowed in parking garages and where otherwise noted. Please watch out for others and do not attempt acrobatic stunts. During busy class changeover times it may be best to dismount and walk rather than attempting to use a skateboard or skates.