We want our campus visitors to feel welcome at UNT. To help you better prepare for a visit to campus, we have created some handy reference guides.
For family and friends
If you want to visit your student, a parking permit is required 24 hours a day, seven days a week - even during the summer. During designated move-in and move-out days, and on commencement days, parking is allowed without a permit next to the residence hall or in the designated commencement lot (typically Lot 20). Even during move-in, move-out and commencement, parking in RR (orange and black) or A (green)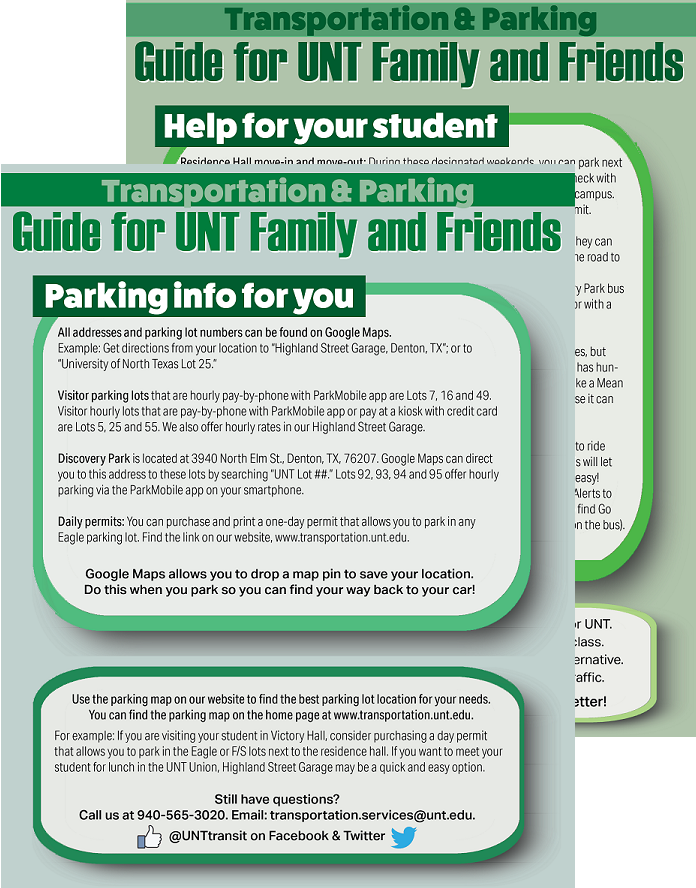 lots is only allowed if you have a permit for that lot.
This downloadable and printable guide for family and friends outlines your parking options. If you would like to purchase a day-use permit and print it prior to coming to campus, you can do that through our parking permit portal by creating a guest account.
The guide also gives some tips to help you get your student acquainted with parking and transit on campus.
Parents often ask questions about checking their student's account. The Family Educational Rights & Privacy Act (FERPA) does not allow us to discuss student accounts with anyone other than the student unless the student adds the parent in the Third Party Release via myUNT. Directions can be found here.
For other campus visitors
If you are attending an event, please check with your event's organizer. Often, event organizers pre-pay for the use of designated parking lots.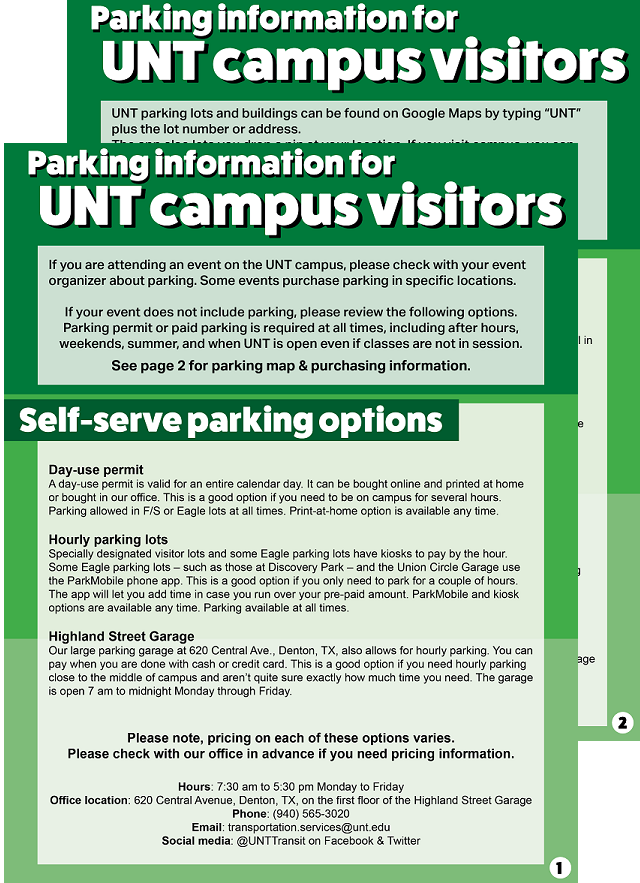 If your event organizer does not have a parking lot designated then you may need to purchase your own parking permit. Please note, UNT requires parking permits for all campus lots 24 hours a day, 7 days a week when the university is open for business -- including the summer and times when school is not in session.
We recommend reviewing and downloading our general visitor parking guide. This gives you an overview of parking options if your event organizer does not have pre-paid parking. It also has tips to help you navigate our campus parking map and find the parking option that is most appropriate for your needs.