To our UNT students
The university is working diligently on the Fouts Field parking lot to bring you an extra 1,000 spaces in time for the fall semester. Students who are on campus during the summer may notice the construction and some changes, outlined below. Effective immediately, the bus stop at Fouts has been moved to the west side of the UNT Coliseum. The buses will stop in the right-hand lane of North Texas Boulevard. Access to the buses is from the sidewalk on the Coliseum side. Buses will run their regular routes. After July 4, the construction crew will need to pave the larger parking area across from the Coliseum. At that time, Eagle permit holders who park in that lot will need to adjust their parking locations to the back of Fouts Field, which is expected to be open by the end of June, or on the vertical stretch of spaces by Traditions Hall in areas marked for Residents (not F/S). We will send update reminders closer to that date. Please be sure to follow us on social media for the most updated information: @UNTTransit on Twitter and @UNTTransportation on Facebook. If you have additional questions, you can also call us at 940-565-3020, email transportation.services@unt.edu or stop by our office on the first floor of Highland Street Garage.
University of North Texas, DCTA AND LYFT partner to launch new on-demand pilot service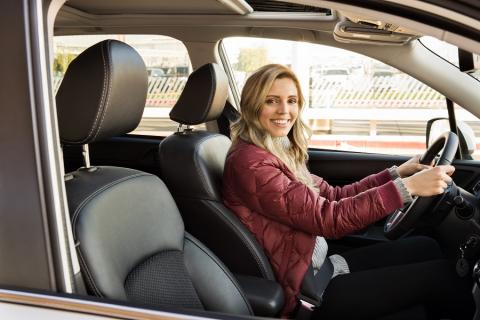 The University of North Texas (UNT) is proud to announce their partnership with the Denton County Transportation Authority (DCTA) and Lyft in launching a new pilot service that will provide students with safe and reliable on-demand service after hours when they travel in the newly designated UNT Lyft Zone. The program began Friday, August 17, 2018, and will end Saturday, December 15, 2018.
UNT LYFT PILOT PROGRAM DETAILS TO KNOW
The pilot program will provide students traveling within the specified UNT Lyft Zone with a complimentary Lyft ride. The service will be available from 2 a.m. to 7 a.m., seven days a week. Below are key program parameters:
Eligibility – only currently enrolled UNT students are eligible to participate in the program.
UNT Lyft Zone – the official zone includes three campus areas: Main Campus, Oak Street Hall and Victory Hall/Mean Green Village, in addition to areas around Fry Street.
Terms of Service – the Lyft platform is not available to persons under the age of 18. For additional information regarding Lyft's terms of service, visit lyft.com/terms.
"As with any service offered on campus, we hope to give the students the alternatives they need to have safe and reliable methods of transportation while they're on UNT campus. Additionally, this leverages our partnership with DCTA and makes the most economical use of the student Transportation Fee, which has not increased in 15 years," said Chris Phelps, UNT Senior Director of Transportation Services.
UNT's E-Ride service will remain available from 7 p.m. to 2 a.m. Monday through Thursday, and from 4 p.m. to 2 a.m. Friday through Sunday.
HOW TO BOOK A FREE LYFT RIDE
To participate in the program, students must download the Lyft mobile app. Once the app is downloaded and a personal user account has been established, students can follow the instructions below to access the program benefits:
In the Lyft app, click on your photo in the top left of the screen and then select "Promos."
Enter the promo code UNTRIDEFALL18 to enroll in the discount program. This is the only time a user must enter the code to enroll in the program for the semester.
Users will be able to view the program terms in the Promo section, including how many rides they have left in the current month. To view the UNT Lyft Zone, users can select "view coverage area" in the promotional section.
The free ride discount will be automatically applied to an eligible trip before it's requested. In addition, the discount will be automatically applied every time a user takes an eligible trip within the designated UNT Lyft Zone during the program service hours. More program information can be found at transportation.unt.edu/e-ride.
"We are excited to be partnering with DCTA and UNT to offer this unique, late-night service program," said Yohan Bobcombe, Market Manager of Lyft Dallas-Fort Worth. Our partnership allows students to get a responsible and reliable ride home during late night hours across campus."
Throughout the pilot program, modifications may be made to improve the service to students. Any modifications to the program will be communicated to students at large. DCTA welcomes participant feedback via its GORequest mobile app to help optimize the program over time and continue to provide alternative mobility solutions for riders.
"Extending our partnership with Lyft to serve UNT aligns with our goal of providing innovative mobility options to meet the growing needs of our partners and the communities we serve," said Nicole Recker, DCTA Vice President of Marketing and Communications.
For more information about the new UNT Lyft on-demand pilot service, visit RideDCTA.net.
UNT System Board of Regents approves 10-year agreement with DCTA
The UNT System Board of Regents on Friday, May 18, approved a 10-year Interlocal Cooperation Agreement with Denton County Transportation Authority (DCTA). UNT has contracted with DCTA since 2005, but this renewal optimizes bus services for the UNT community.
The new contract will allow some items to stay the same. For example, the UNT student transportation fee will continue at $3.50 per credit hour until 2021-22, when it will be reevaluated. UNT students, faculty and staff members will still be able to ride any DCTA bus for free with their UNT ID.
The contract will also allow for some changes. One of those changes is that DCTA will provide night-time shuttle service, more commonly known as e-ride, allowing students to enjoy more continuity between the day routes and the evening shuttle.
It is estimated that DCTA will see around 2 million direct riders for pickup and drop-off during more than 46,000 hours of service in fiscal year 2018-19. Approximately 20,000 of those riders will be during e-ride hours of operation.
Future opportunities with the contract include flexibility in response to an expected increase in ridership, expanded IT services with the buses and support of UNT's regional growth plans.
Stay in touch with Transportation Services through the summer
As the semester draws to a close, we want to give you some information about what we'll be doing over the summer to prepare for a great fall semester.
Parking permits, including First Time in College Student (FCS), Resident (R), Resident Reserved (RR) for upperclassmen and Eagle Fall (EF), will go on sale on May 3. To ensure that students are directed to purchase the correct permit type for the coming year, resident permits will only be available for purchase by students that have received a room assignment for the 2018 - 2019 academic year by Housing. Students that have applied for housing but are awaiting room assignment will likely be in the Parking Portal system as an unverified resident. This will status will be updated on a weekly basis as Transportation Services works with Housing to exchange resident information.
Following receipt of a room assignment, please allow 7 - 10 days for the information update that will allow students to select the correct permit options in the UNT Parking Portal. If you encounter issues, call 940-565-3020 for assistance.
Presales for Highland Street Garage yearly access cards for floors 2-6 will also begin on May 3. Any First Time in College Students wanting a Highland Street Garage access card will be placed on a waitlist until July 15 to allow upperclassmen the opportunity to purchase the access cards. Anyone who purchases a garage access card during the presale will be able to pick their card up in the Highland Street Garage office beginning on Aug. 8, when the card will be active. These are sold on a first-come, first-served basis.
We'll be here all summer, so keep an eye on our Facebook and Twitter accounts for updates on improvements coming. One of the projects we're very excited about is a restructuring of our website. We want to provide a user-friendly experience on our website, so we'll be working to make it more intuitive and easy-to-use over the summer.
You will also find the same great options for transportation and parking, including free parking at MedPark station with a bus going to campus every 20 minutes, Zipcar options that allow you to rent a car for an hour or two without worrying about anything, buses that are free for students to ride on- and off-campus, Parkmobile spots for students, faculty and staff and visitors who are only on campus for a short time and one-on-one meetings to help you figure out the best option for you to get around on campus.
There will be some minor changes with the buses, but you will still be able to track the on-campus buses with the UNT Transit app. Two of the biggest changes are the end of the Sam Bass route on Aug. 11, 2018, which was first announced last August, and a possible change to the Eagle Point route between Apogee Field and Lot 20 (Fouts Field). More information on that change can be found here.
When you come back to campus next fall, we want you to transition as smoothly as possible, so we have a few tips for you.
Watch for marques that will help you find parking.
Have a plan in mind, but also come up with a couple of backup plans, in case your first choice for parking is full.
Remember that after 9 a.m., Fouts is a great choice with open parking and a bus to take you across campus to the Union.
Keep track of where your bus is in real time with the bus tracking app.
Don't be afraid to check out alternative methods of transportation, including parking a little further away and taking a bus or a Spin Bike across campus.
If you have any parking or transportation questions, you may visit the Transportation Services office on the first floor of the Highland Street Garage between 7:30 am and 5 pm Monday through Friday, call 940-565-3020 or email transportation.services@unt.edu.
Parkmobile
UPDATE: Read more about Parkmobile on the official UNT Press Release here
Effective December 15, 2016, coin operated meters will not be available on UNT main campus or Discover Park.
'Parkmobile' is UNT's newest approach to easing the process of parking on campus! With this application students, faculty, staff and visitors will have the opportunity to pay for their parking spot wirelessly! Create your profile, define your payment method, choose your location, define how long you want to pay for and done! Register today!
Check out these helpful demos on how the system works here for iPhone or here for Android!
Need support on the go? Print out one of Parkmobile's handy wallet cards for support on the go!
UNT Campus Rates:
$2.25 per hour with a one hour minimum purchase $.35 Parkmobile service fee (fee added at end of transaction) Extend parking time in 12 minute increments at $.45 each additional increment. No refunds.
Where can I use Parkmobile?
Lot 5 (parkmobile)
Mixed use - Lot 7 (eagle permit or parkmobile required)
Lot 16 (parkmobile)
Mixed use - Lot 20 (eagle permit or parkmobile required)
Mixed use - Lot 25 (parkmobile or smart meter required)
Mixed use - Lot 54 (eagle permit/parkmobile/smart meter required)
Mixed use - Lot 55 (eagle permit/parkmobile/smart meter required)
Discovery Park meters (parkmobile only -no coins)
Main campus meters (parkmobile only - no coins)
Union Circle Garage (parkmobile only/smart meter required)
______________________________________________________________________________________________
Zip Car
A new car rental service is now available on campus.
Sign up today! Click here for more information
Where are the Zip Cars located?
Highland Street in front of Crumley Hall
Union Circle Garage (lot 49 behind bus stop)
For more videos on Zipcar visit: https://www.zipcar.com/how-it-works
Important Information for Faculty and Staff
1. Will I need a permit to park on campus?
Yes, we are a 24/7 permit enforced campus. New faculty and staff members will need to purchase a permit from the Transportation Services Office. Permit options for faculty and staff include:
2. Who is eligible for payroll deduction?
Only full-time faculty and staff members are eligible for payroll deduction. Part-time faculty and staff members will need to pay the full permit cost upon purchase.
3. What information will I need to purchase a permit?
To purchase any of our faculty and staff permits, you must be listed in our system as a faculty & staff member. This requires your employer to update your status in the university's system. If your employer hasn't updated your status in the system yet, you will need to bring your offer letter with you for verification of employment. Individuals wanting to purchase a permit will also need to bring their drivers license and know their license plate number for our records.