On this page:
Texas State Law now requires those with Disabled Veterans license plates to either upgrade to a license that also includes the International Symbol of Access (ISA) or a disabled parking placard in order to park in ADA parking spaces.
UNT will consider any vehicle that does not have an ISA license plate or a valid disabled parking placard to be out of compliance and subject to a $250 citation.
Questions can be directed to our staff. Please see our Contact page.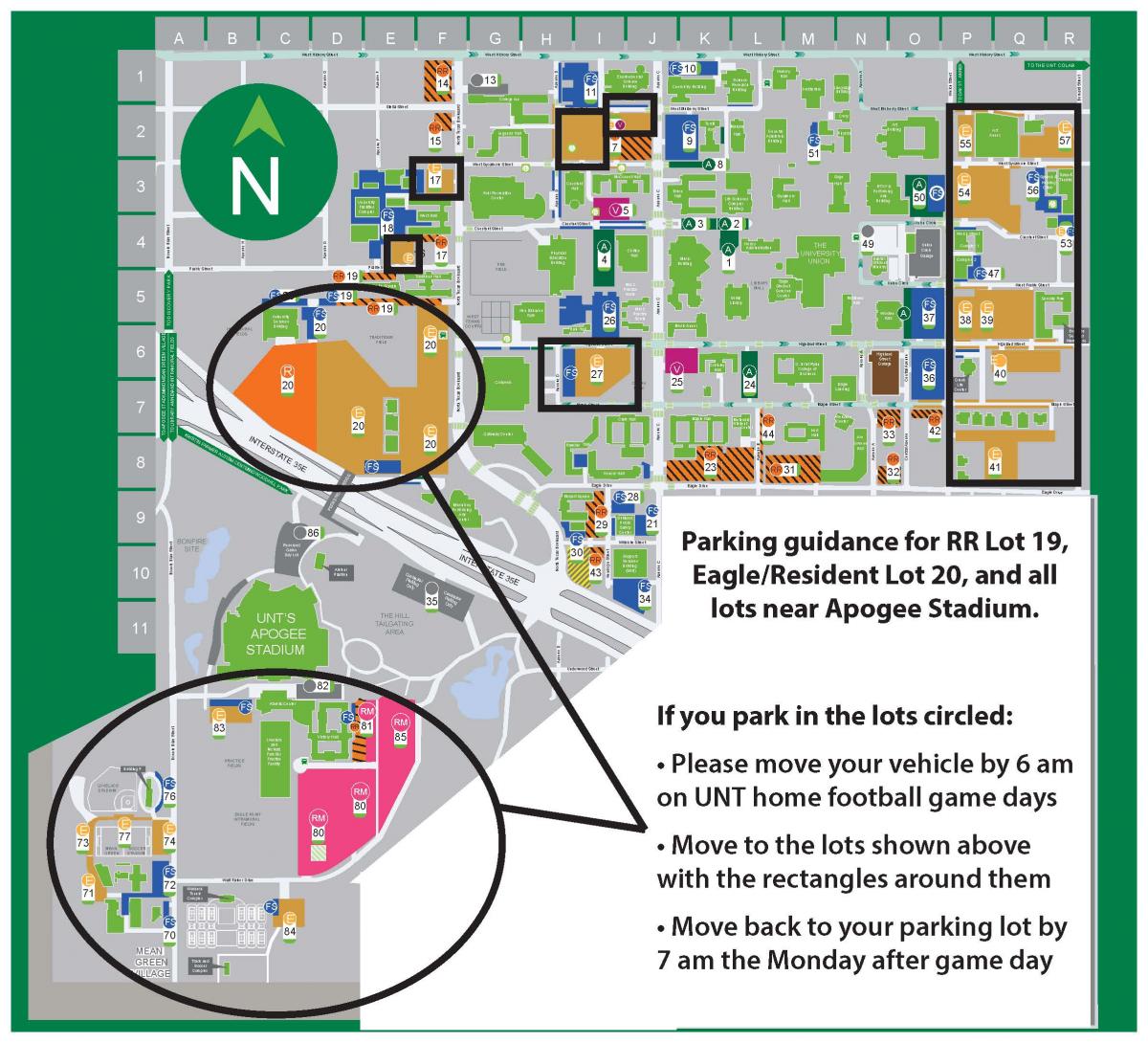 UNT Housing residents who are parked in Remote, general Resident or the southern park of Lot 19, along with Eagle commuters and Faculty/Staff in Lot 20 and the areas around Apogees Stadium, need to move their cars to allow for game day traffic on Mean Green home football game days.
Please move your cars beginning at 3 pm on the Friday before the Saturday game day. Cars must be moved by 6 am on game day. Please see the map at right (and click on it for a printable PDF) for the locations where you should move your car -- these include Eagle lots on the main part of campus.
Cars that are not moved are subject to be towed and/or a $125 fine.
Please move your cars back to your designated parking lot no later than 7 am the Monday following a home football game.
Cars that are not moved back are subject to a citation of up to $50 or more.
If you would like to purchase a parking permit for a Mean Green Football Home Game, please visit the Athletics website here for a map of the lots and pricing -- and click the "buy tickets" button in the left hand corner to purchase a parking permit. During home games, only Mean Green Athletics parking permits are valid in the lots circled on the map at right.
Thank you for your patience and cooperation as we make UNT's campus welcoming for our Mean Green fans!
How-to guidance