Academic year 2022-23 updates:
UNT faculty and staff have a chance to purchase parking permits in April so that they can receive them in advance of the 2023-24 academic year. As a reminder, parking permits for 2022-23 expire on Aug. 14.
For those who are working at Frisco Landing, parking permits are required starting this fall. Frisco-specific permits will be offered for $100. See more details here.
Here is a brief overview of permits for the upcoming academic year:
Permit prices remain the same as the 2022-23 year.

Those who use payroll deduction may purchase their permits now and receive their first payroll deduction for the 2023-24 permit on Oct. 1, 2023.

Purchasing your permit in advance allows you to receive your permit in the mail - please check your address on the UNT Parking Portal to ensure it is updated.
We do sell permits in our office on the first floor of the Highland Street Garage but highly recommend that you use the UNT Parking Portal to avoid lines, especially closer to the start of the fall semester. If you purchase your permit 3 weeks in advance of the start of the semester, you will have an option to print a temporary permit via PDF to put on your dashboard until your permit arrives in the mail.
We are always happy to help you with your questions about permits. Please call 940-565-3020 or email transportation.services@unt.edu.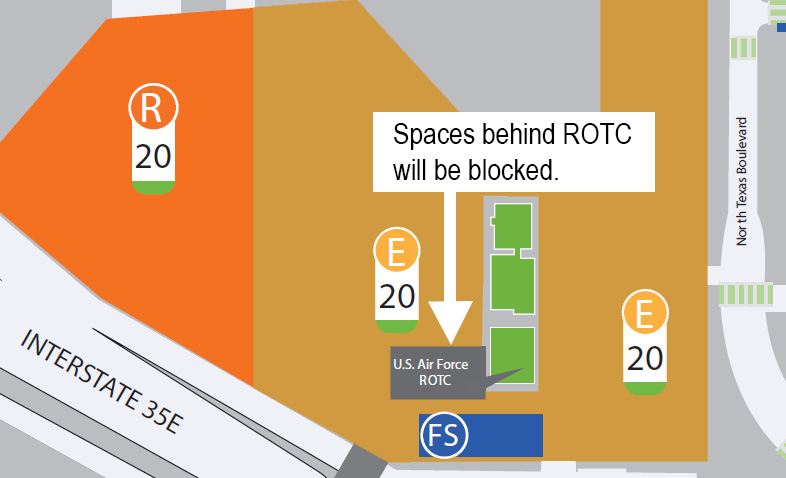 UNT will see a new cell tower erected in Lot 20 near the highway. The project is expected to start Feb. 25 (Saturday) and wrap by March 18 (Saturday). It will require about 50 spaces to be blocks behind the ROTC during this time. The area that will be blocked is in Eagle (commuter) student parking. There is consistently about 150 to 250 open spaces in that area during the semester so there should still be plenty of open parking. Transportation Services highly recommends commuting students use Lot 20 for easy parking.
From Lot 20, there are three nearby bus routes that allow them to access campus in a variety of ways. The Academic Circulator 101 is the quickest bus that goes between Lot 20 and the Hurley Administration/Life Science building area in about 9 minutes; pick up is at the main bus depot. The Parking Express bus goes between Lot 20 and the Highland Street Parking garage in about 15 minutes; pick up is at the back of Lot 20 by the stand-alone bus stop. The Mean Green bus does a complete circuit of campus and can take up to 25 minutes or more to complete a full route but gives multiple access points to campus; pick up is at the main bus depot at the front of Lot 20. View the full bus schedules and information by clicking here.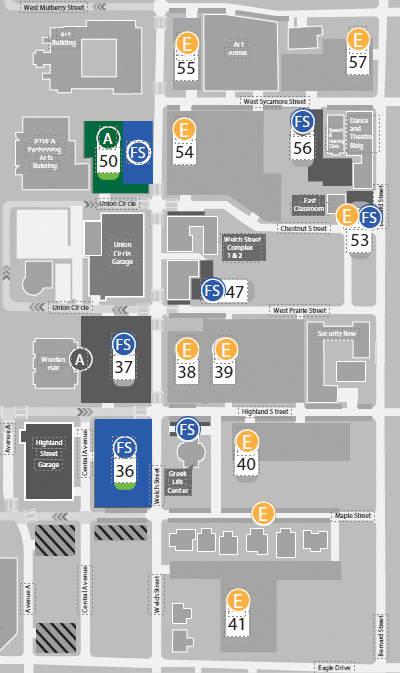 Transportation Services will soon re-stripe two faculty/staff parking lots that have fading lines. Re-striping the lots ensures that fire lanes, ADA spaces and other spaces are clearly marked. This helps promote safety and clarity in our campus parking lots.
Here is the upcoming parking lot re-striping schedule:
Lot 36, east of Highland Street Garage, between the garage and Welch Street will be closed Friday, Feb. 24, and Saturday, Feb. 25, for re-striping. In case of inclement weather, the back-up dates for re-striping are March 3-4.

Lot 50, behind the RTFP building, will be closed the Monday and Tuesday of Spring Break, March 13 and 14. In case of inclement weather, the back-up dates for re-striping are March 17-18.
Also, see the graphic at right, which highlights the locations of Lot 36 and Lot 50, pictured in full color, and nearby F/S and Eagle parking lots, depicted with colored circles.
Texas State Law now requires those with Disabled Veterans license plates to either upgrade to a license that also includes the International Symbol of Access (ISA) or a disabled parking placard in order to park in ADA parking spaces.
UNT will consider any vehicle that does not have an ISA license plate or a valid disabled parking placard to be out of compliance and subject to a $250 citation.
Questions can be directed to our staff. Please see our Contact page.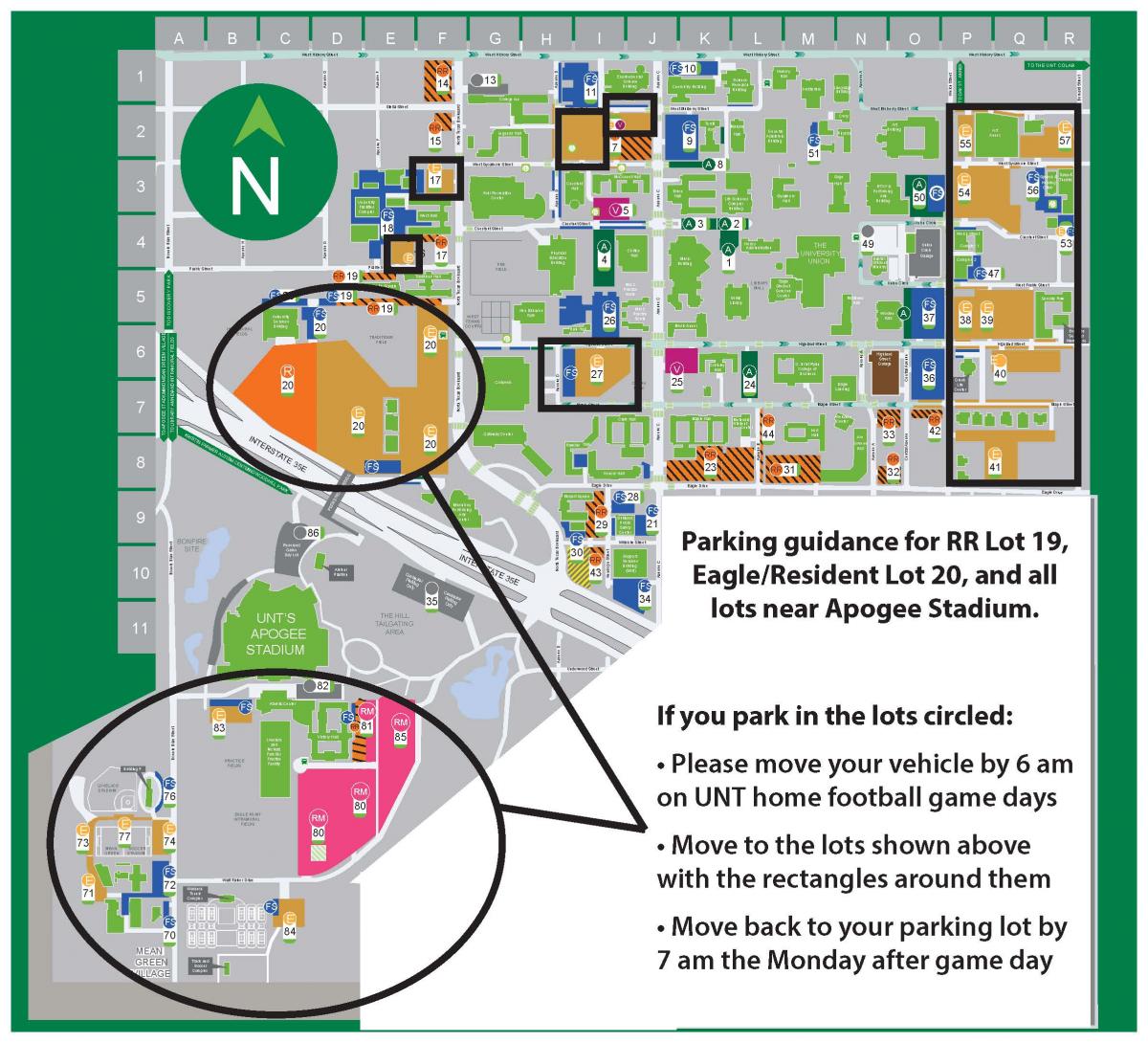 Each fall semester, UNT Housing residents who are parked in Remote, general Resident or the southern park of Lot 19, along with Eagle commuters and Faculty/Staff in Lot 20 and the areas around Apogees Stadium, need to move their cars to allow for game day traffic on Mean Green home football game days.
Please move your cars beginning at 3 pm on the Friday before the Saturday game day. Cars must be moved by 6 am on game day. Please see the map at right (and click on it for a printable PDF) for the locations where you should move your car -- these include Eagle lots on the main part of campus.
Cars that are not moved are subject to be towed and/or a $125 fine.
Please move your cars back to your designated parking lot no later than 7 am the Monday following a home football game.
Cars that are not moved back are subject to a citation of up to $50 or more.
If you would like to purchase a parking permit for a Mean Green Football Home Game, please visit the Athletics website here for a map of the lots and pricing -- and click the "buy tickets" button in the left hand corner to purchase a parking permit. During home games, only Mean Green Athletics parking permits are valid in the lots circled on the map at right.
Thank you for your patience and cooperation as we make UNT's campus welcoming for our Mean Green fans!
How-to guidance